2021 
gelatin silver photographs
triptych size variable 
image sizes: 50 x 50 cm, 50 x 75 cm, 50 x 50 cm
Edition of 2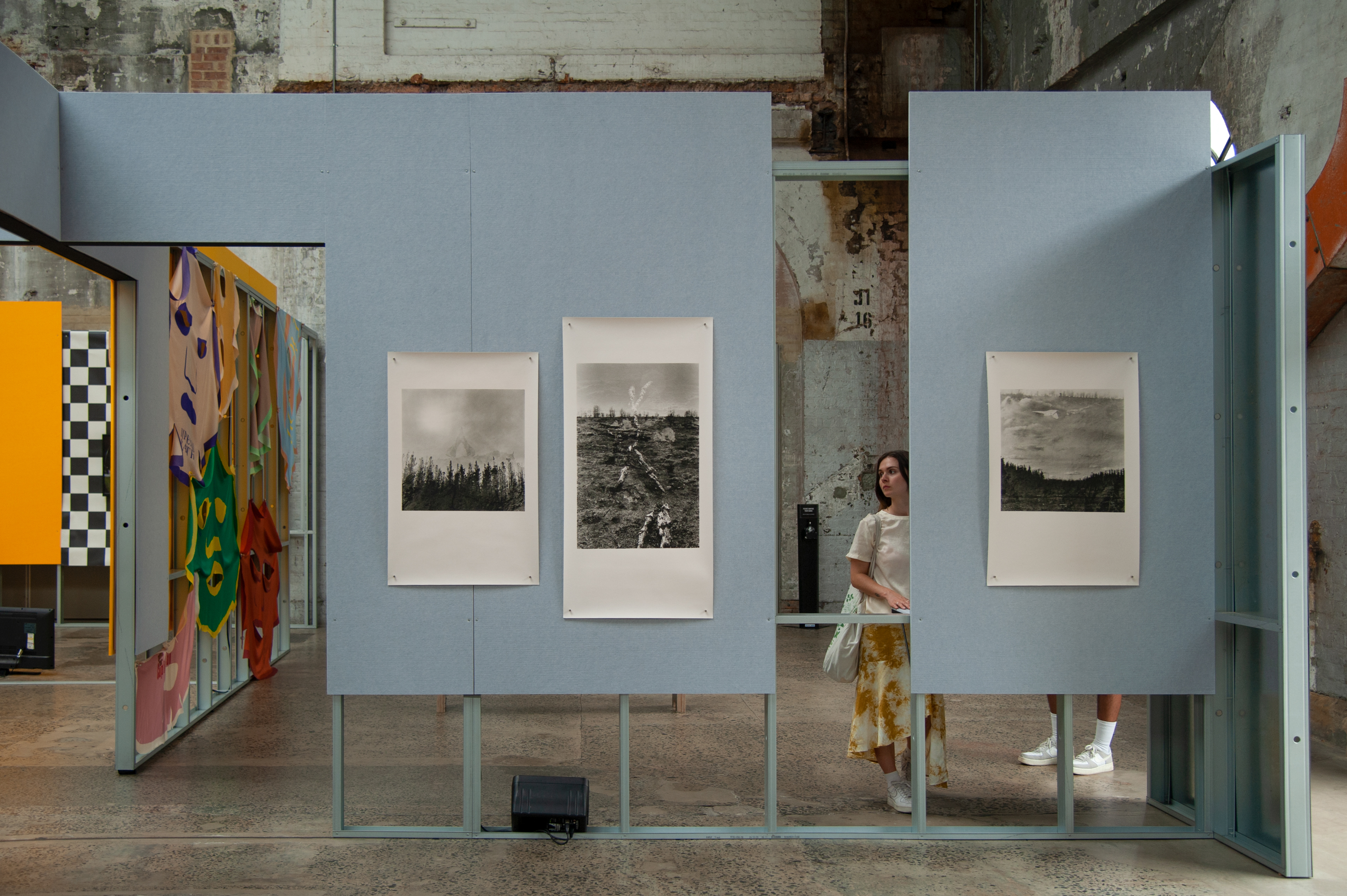 Artist Statement
Horizon
places us on a ledge looking over our world. As witnesses to the land beginning to slide and detach, the shifting horizons confuse our sense of being and place. Light generally shapes familiarity, but here, it depicts displaced life forms attempting to transcend or flee the chronic ecological trauma that annihilates many before the expected course of their natural lifetime. Documenting the remains of the prematurely fallen amidst the genocide of human dominance, Williams uses film and in-camera multiple exposures to portray the ache of mortality across the active battleground of the earth's crust.This imagery was created on the Newnes Plateau after the devastation to the region after the Gospers Mountain Fire in late 2019.
Exhibition
2021
NO SHOW
 curated by Aarna Hanley, Carriageworks, Eveleigh
Carriageworks invites eleven artist-led initiatives from across New South Wales for 'No Show'. Including artist-run spaces, studios, cooperatives, digital platforms and online publications, each group presents an independent program that profiles early career and under-represented artists. Across three weeks, artists and writers work within the discrete but connected spaces designed by architects Youssofzay + Hart.
WAYOUT Artspace
 presented 
The Bitter Crust
 with artists; Gus Armstrong, Leo Cremonese, Flavia Dujour, Karen Golland, Michael Petchkovsky, Georgina Pollard, Greg Pritchard, Julie Williams and Alex Wisser.
VANITAS: The Bitter Crust
As a starting point Vanitas evokes the idea of Still Life or memento mori, reminding us of the transience of life and the certainty of death: the addition of the words,
The Bitter Crust
, broadened the conceptual horizon, for a glimpse beyond conventional interpretation. To test the viability of these words, artists were invited, each to describe a work they would make in response, with
The Bitter Crust
serving as an anchor, an axis, a hinge, making a connection between all the works of contributing artists: it also provided a frame, narrowing and directing the field of inquiry while expanding the possibilities for interpretation.